Market Square Day Logo Unveiled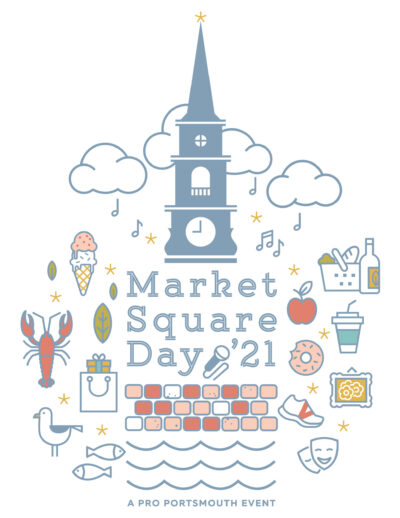 Pro Portsmouth Unveils 2021 Market Square Day Festival Logo
PORTSMOUTH, NH. Wednesday, August 25, 2021. Pro Portsmouth unveiled the 44th Annual Market Square Day Festival & 10K Road Race logo today at the newest location of The Juicery (2225 Lafayette Rd.). The Festival and Road Race will take place on Saturday, September 18th.
According to Pro Portsmouth Executive Director, Barbara Massar, holding the Press Conference at The Juicery was a way to acknowledge the success of Alex Vandermark and his team and the fact that they have been a part of Market Square Day dating back to 2013. "As we continue to make our way through challenging times, it's even more important that we acknowledge, nurture, and appreciate the impact of relationships built over time," said Massar.
Massar also thanked the many area businesses – old friends and new – who make Market Square Day possible, in particular the 2021 Presenting Program Sponsor, Wentworth-Douglass Hospital, supporters of all programming for the year, and Road Race Co-Title Sponsors, Atlantic Orthopaedics & Sports Medicine, and Primmer, Piper, Eggleston & Cramer, as well as Festival and Race Supporting Sponsors People's United Bank, Runner's Alley, Lyons Law Offices, Bottomline, NH State Council on the Arts, Consolidated Communications, Coca Cola Beverages Northeast, Blue Dolphin and InHouse Digital.
Pointing out that not being able to produce large community events over the past 18 months has been difficult for everyone, Massar commented that, "Market Square Day has become a Portsmouth tradition, and we heard from many race participants, and booth hosts that its return was greatly anticipated." But she noted that nothing prepared her for the email Pro Portsmouth received earlier this year.
Sarah McCue sent the following to us: "Last year, my father, David McCue, tragically passed away from cancer. Since then, my family and I have been looking for a way to keep his legacy and spirit alive. He loved running the Market Square Day road race. We even mentioned it in his obituary. (He'd been running in it most years since 1983. A good number of those races we ran together.)"
Sarah also added, "My dad worked in downtown Portsmouth for 40 years and when I walk through Portsmouth today, I see him everywhere. Some of my favorite Portsmouth memories were running the Market Square road race with him. As a little kid I cheered him on, as a teenager I just tried to keep up with him and as a twenty something I finally beat him by a few seconds one year. It seemed like the obvious choice to support the city and the race he loved."
As Sarah said, "We hope there are other father-daughter and family teams running this year. We love the idea that runners will see his face on the back of this year's Market Square Day t-shirt as they run through the streets of Portsmouth. If he can't be with us in body he is with us in spirit."
The family designed a logo honoring Dave, and it will be featured on the Road Race bibs and t-shirts.
For the official 2021 MSD logo, artist Kristin Johnson's design was chosen from numerous submissions and will be featured on all Race and Volunteer T-shirts as well as the Festival T-shirt which will be available at the Pro Portsmouth booth in Market Square during the event.
A variety of Volunteer opportunities are open for Market Square Day. For more information, see https://proportsmouth.org/volunteer/ or contact Lauren Rosen at 433-4398 Ext. 4 or coordinator@proportsmouth.org
Market Square Day features entertainment on the Pleasant Street Stage beginning at 11:3am. Various acts will be featured, and the schedule is noted on the Pro Portsmouth website.
An abundance of crafters, local businesses and food vendors will set up 'shop' on the streets of Portsmouth.
NEW FOR 2021: The Road Race starts at 8am in Market Square. (As in past years, the Festival runs from 9am through 4pm.)
Parking restrictions do take place in Downtown Portsmouth beginning at 4:00am on Saturday, September 18th. Streets will be posted on Friday, September 17th to indicate where parking is prohibited during the festival. Parking restrictions will be enforced and vehicles will be towed at the owner's expense.
REMINDERS:  Pro Portsmouth, in partnership with the City, is encouraging all race participants and festival attendees to use the Foundry Garage on Market Square Day. Special event day fee of $3.00 for entry between 6am – 5pm. All event parking information is noted at https://proportsmouth.org/market-square-day-parking-and-street-closures/
Massar also wanted folks to note that this will be the second year that the organization has decided to forego the iconic balloon arches. "Every year we recap the event, and for a number of years now, the arches have come up as an area of concern. The decision wasn't easy, but it's about doing what's right. Regardless of how careful we are with disposal of the arches, the balloons end up in landfill, where it may take 5+ years for them to decompose. And, we wanted to make the call on our own terms, not as the target of a social media campaign. Pro Portsmouth values the place it holds here in town."
Market Square Day is produced by Pro Portsmouth. Pro Portsmouth, Inc. is a 501c (3) organization serving the Seacoast area. Its Mission is to promote the arts, culture, history and community of the area through such events as Children's Day, Market Square Day, Summer in the Street and First Night® Portsmouth. For more information on the group, including volunteer and sponsorship opportunities, visit www.proportsmouth.org