The 2023 Market Square Day Logo!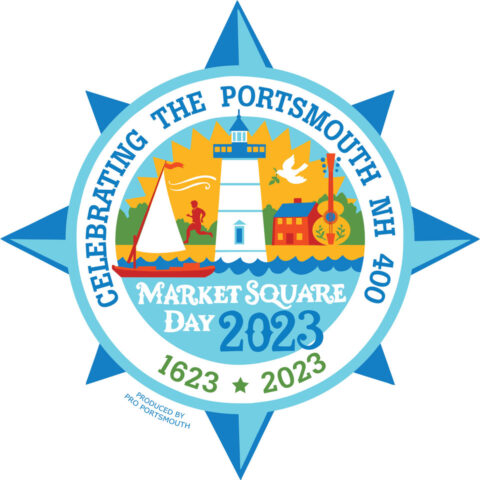 Market Square Day 2023 Logo
Pro Portsmouth Unveils 2023 Market Square Day Festival Logo Honoring the PortsmouthNH400
PORTSMOUTH, NH. Wednesday, May 24, 2023. Pro Portsmouth unveiled the 46th Annual Market Square Day Festival & 10K Road Race logo today at Atlantic Orthopaedics and Sports Medicine
According to Executive Director, Barbara Massar, holding the Press Conference at Atlantic Orthopaedics and Sports Medicine was a logical choice, given their role as Co-Title Sponsor of the 10K Road Race, and, the important role that the race plays during Portsmouth's celebration of its 400th anniversary.
For Portsmouth's 350th Jubilee Celebration back in 1973, a 10 mile road race, sponsored by a downtown restaurant, A Horse of a Different Color, took place (and had for many years), but '73 was special: the first male finisher from Portsmouth was to receive a plaque from 1923 first male finisher, Frederick S. Gray. Peter Anania was the recipient of the plaque, and promised to pay it forward in 2023. This year's recognition awards will go to both the first male and female Portsmouth residents to cross the MSD 10K finish line, and Anania will present them at the Hospitality area, post-race, at Strawbery Banke.
Massar also thanked the many area businesses – old friends and new – who make Market Square Day possible, in particular the 2023 Program Partner, Mass General Brigham Wentworth-Douglass Hospital, supporters of all programming for the year, and Road Race Co-Title Sponsor, Primmer, Piper, Eggleston & Cramer, as well as Festival and Race Supporting Sponsors M&T Bank, Xfinity, Duckfeet, Fidium Fiber, Runner's Alley, Coca Cola Beverages Northeast, When Pigs Fly Bread, alpha graphics, Blue Dolphin, ad cetera graphics, and InHouse Digital.
Artist Carolyn Vibbert's was chosen as this year's Market Square Day logo; her work had also been chosen for the First Night 2023 logo.
The logo will be featured on all Race and Volunteer T-shirts as well as the Festival T-shirt which will be available at the Pro Portsmouth booth in Market Square during the event, as well as on the Pro Portsmouth website (on demand) in partnership with Blue Dolphin: https://proportsmouth.org/event-merchandise/
A variety of Volunteer opportunities are open. Information regarding Volunteering for MSD is available by contacting Janice Brown at 433-4398 Ext. 4 or coordinator@proportsmouth.org
Market Square Day features entertainment throughout the day on the Pleasant Street Stage. Various acts will fill the Downtown with music and dance; the complete schedule is noted on the Pro Portsmouth site.
An abundance of crafters, local businesses and food vendors will set up 'shop' on the streets of Portsmouth.
The MSD 10K Road Race kicks off the day with a 9am start in Market Square. Race registration can be accessed online at https://proportsmouth.org/events/market-square-day-10k/
Parking restrictions do take place in Downtown Portsmouth beginning at 4:30am on Saturday, June 10th. Streets will be posted on Friday, June 9th to indicate where parking is prohibited during the festival. Parking restrictions will be enforced and vehicles will be towed at the owner's expense.
REMINDERS:  Pro Portsmouth, in partnership with the City, is encouraging all race participants and festival attendees to use the Foundry Garage on Market Square Day. Special event day fee of $3.00 for entry between 6am – 4pm. All event parking information is noted at https://proportsmouth.org/market-square-day-parking-and-street-closures/
Market Square Day is produced by Pro Portsmouth. Pro Portsmouth, Inc. is a 501c (3) organization serving the Seacoast area. Its Mission is to promote the arts, culture, history and community of the area through such events as Children's Day, Market Square Day, Summer in the Street and First Night® Portsmouth. For more information on the group, including volunteer and sponsorship opportunities, visit www.proportsmouth.org