Children's Day Logo Contest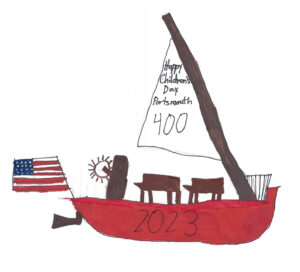 PORTSMOUTH, NH. April 25, 2023. This year's Children's Day logo celebrates Portsmouth's 400th anniversary, and there's no denying the connection to the history of the Port City.
Created by Rye student, Reagan Stephan, the 2023 logo features an image of the gundalow. The logo artwork will be featured on the Volunteer T-shirts, the Children's Day map, social media, and the Pro Portsmouth website.
The event, which takes place on Sunday, May 7th from Noon – 4:00pm, kicks off at the Block Party's Performance Area on Pleasant Street. Using the activity map and legend, families follow the alphabet all over Downtown where they can enjoy a variety of crafts, games, and interactive activities.
Entertainment takes place at the Block Party on Pleasant. This year's schedule of performers includes Musical Fun with Steve Blunt & Marty Kelley (12:15 to 1:15pm), Bryson Lang, Juggler Extraordinaire! (1:30 to 2:30pm), and the Seacoast Civic Dance Company (3:00 to 3:45pm).
Of special note this year is Portsmouth Fire Department's Portsmouth 400 Open House that features a showcase of firefighting history through artifacts, early fire engines, and photographs at the Firehouse on Court Street. For more information, go to: https://www.cityofportsmouth.com/fire/portsmouth-nh-400th-anniversary-fire-department-open-houses
Support For Children's Day comes from: 2023 Program Partner, Mass General Brigham/Wentworth Douglass Hospital, and Supporting Sponsor, xfinity, with additional support from Event Sponsors: Piscataqua Savings Bank, Treehouse Toys, G.Willikers, Kilwin's, alpha graphics, ad cetera and Blue Dolphin. Interested in supporting this event? Go to: https://proportsmouth-bloom.kindful.com/ and select Children's Day in the drop down menu.
Thanks go out to the City of Portsmouth, City Manager, Karen Conard, and the various City Departments for their support of Children's Day.
The Children's Day map will be available at the event and can be downloaded/printed on the Pro Portsmouth: https://proportsmouth.org/childrens-day-map/
About Pro Portsmouth:
Pro Portsmouth, Inc. is a 501c (3) organization serving the Seacoast area. Its Mission is to promote the arts, culture, history and community of the area through such events as Children's Day, Market Square Day Festival & 10K Road Race, Summer in the Street and First Night® Portsmouth. For more information on the group, including volunteer and sponsorship opportunities, visit www.proportsmouth.org or call 603-433-4398.
Check out our previous logos: